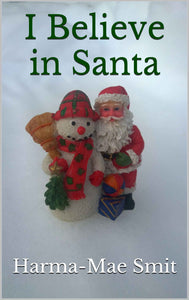 Adults don't believe in Santa, and this year Maria has given up on Christmas hope altogether.

Maria just moved to a city where she doesn't know anyone, was dumped by her boyfriend, and feels abandoned by God. She expects this Christmas to be the loneliest one she's ever experienced. When the voice on the radio implores listeners to hang onto the hope and Christmas spirit that Santa represents, she shuts it off - even the Christmas spirit doesn't feel real to her anymore.

Will Maria be left to experience the loneliest Christmas yet, or will the hand of hope reach down to help her out?

This short Christmas read will get you into the spirit of the Christmas season.
This product is an eBook. Upon purchase, you will be given an option to download immediately, and a download link will also be emailed to you. Enjoy! Questions about eBooks? Check out 'How to Read Your eBook.'